Joel Goodman once said, "Everybody has used the expression, `Someday we'll laugh about this.' My question is, why wait?" That's great advice for optimists who want to celebrate the joy of life that comes with a good laugh.
Jan was in her early nineties and still finding her way around New York City. When her car stalled at a bridge toll booth, she was unable to restart her engine. Knowing nothing about cars, she put up her hood to a chorus of honks from the irritated drivers behind her. Smiling at the man in the first car, she slowly walked to his door and knocked on the window. "I'm 93 years old, and I don't know anything about cars. Optimistically, if we're going to move, somebody is going to have to help me start my car. Why don't you go work on my car, and I'll take over the honking." When she told her newest 89-year-old boyfriend about her humorous exchange, he reminded her that she was probably too old to be driving in New York. She responded with smile, "You better be careful. I've buried everyone who ever told me to act my age."
Talk about wild cards! There is no better card to play in life than the joker. Humor has a way of making even a poor hand a winner. And even if you don't win, you have a heck of a lot more fun while losing. Renowned psychiatrist Eric Berne was once asked to define a healthy person. He replied: "Healthy people go 'Yes,' 'No,' and 'Whoopee!' Unhealthy people go 'Yes, but,' 'No, but,' and 'No whoopee!'" Giving way to laughter is one of the best ways to turn any moment into instant "Whoopee!"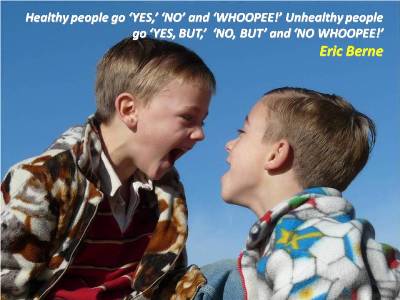 It also has a way of bringing other people along for the ride. Man's Search for Meaning author Viktor Frankl called laughter "the currency of hope" and a sure-fire way to cultivate the optimism advantage. Frankl wrote: "An outsider may be astonished to hear that one could find a sense of humor in a concentration camp…. Humor was another of the soul's weapons in the fight for self-preservation…. It can afford an aloofness and an ability to rise above any situation, even if only for a few seconds." Frankl's fellow inmates survived daily by inventing one amusing story to tell others. At night, they would gather to laugh together. If humor works in a situation as dire as a concentration camp, it can certainly help you cope with just about any circumstance you will ever have to face.
This post comes from my newest book, The Optimism Advantage: 50 Simple Truths to Transform Your Attitudes and Actions into Results. If you like this post, you'll love this book available March 22nd!