On this day of new beginnings, I'm reminded of the words of Edith Lovejoy Pierce: "We will open the book. Its pages are blank. We are going to put words on them ourselves. The book is called Opportunity and its first chapter is New Year's Day."
Dawn gives birth to daylight as we scurry to make the best of the day before sunset bids us pause. Weekends remind us to celebrate the end of a week and get ready for Mondays. Thank God It's Friday gives way to another Heaven Help Us It's Monday.
Yes, there is value in taking a break in the flow of life to acknowledge progress, celebrate successes, learn from our mistakes, and heal from our wounds. There is also value in taking that time to prepare for tomorrow by making needed course-corrections, acknowledging new opportunities, and making new commitments to improve and to make a difference.
Learned Optimism author Martin Seligman observed: "Happiness divides into the domains of past, present and future. The past is your feelings of contentment or well-being. It's the life story you tell yourself. Present is what's usually called happiness. It's how you are feeling right now. And future is your optimism."
Making a move today, in the present, is the start of progress. After all, as Will Rogers loved to say: "Even if you're on the right track, you'll get run over if you just sit there."
As I wrote in The Optimism Advantage, optimists cultivate a bias for action. You may not be able to change THE economy, but you can do a lot to improve YOUR economy. You can't change what has happened to you, but you can embrace the action imperative and do what you can to invent a better future — starting immediately. Optimism is all about making a move to turn your worries and concerns into constructive action one day at a time!
I once had a client who simply refused to act. After a few sessions together, it became clear to me that her past experiences with therapy had provided her with a hiding place from life; one where she had cultivated a vast array of excuses to avoid risk. After experiencing enough of her painful ruminations, I had given her a between-session assignment that required her to risk taking action. It was a small step, but after a moment's pause, she said with concern, "I'm just not ready. I need a few more sessions to get my head together." I had learned already that humor was effective in breaking her self-defeating responses. I replied with a smile, "Don't go in there. I know what is in your head, and it's not helpful. You'd do better having a vacation with a run-of-the-mill enemy than being alone with your own thoughts for a week." She laughed. She completed the assignment and was proud of her progress at the next session. She was soon hooked on celebrating her progress, instead of avoiding choices.
Who has time to over-analyze the past when you are having fun making a difference today! So ask yourself: are you hooked on living life to the fullest? The tragedy of life is not how soon it ends, but how long you wait to begin it.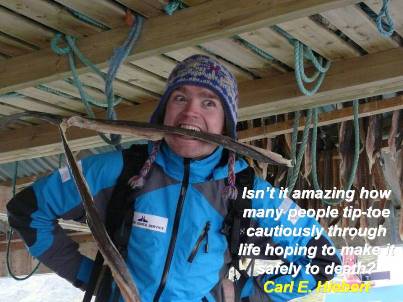 Carl Hiebert observed, "Isn't it amazing how many people tip-toe cautiously through life hoping to make it safely to death?" To become more optimistic, spend a lot less time ruminating about what has already happened and a lot more time choosing, moving, trying, tasting, experiencing, serving, enjoying…living. May your New Year bring you adventure and a little less tip-toeing!