As I write in The Optimism Advantage, "One of the best ways to inspire others is to share heroic stories from the past and the present. Stories turn experiences into narratives, people into heroes and earned successes into renewed optimism. All of a sudden, optimism is no longer an abstract attitude; it's a message embodied in a team or hero. When people can see optimism in action, it is far more contagious. The most satisfying stories come out of experience forged through the heat of real-world struggles."
In a recent journey that connects two different times and two different continents, I've come to appreciate the impact that one individual can have when he struggles in a mighty way to find God's will for his life. Both men have gone viral in their own time. To me, both are inspiring stories.
One was Martin Luther whose stand triggered the Reformation in 1517. The other was Glenn Beck whose recent Restoring Honor Rally touched hundreds of thousands in attendance and even more who were watching from afar. One took advantage of the printing press, the other the Internet and media coverage. Both took risks to take a stand for God and for the rights of individuals to be free to find their own way to faith.
On a recent Path of Luther Tour in Germany, I was confronted again and again by the power of one lowly priest, preaching in a remote German village who, relying on God and Scriptures, helped unleash the fire of a living faith that transformed an age.
In the city of Worms, Germany, Luther was called to recant of his views expressed in the 95 Theses that he had posted in Wittenberg against the abuses of the Catholic Church of that time. It was in Worms that he made his bold and memorable stand: "I cannot and will not recant anything, for to go against conscience is neither right nor safe. Here I stand. I can do no other, so help me God. Amen."
Because of his offenses against the Pope and Rome, Luther was never allowed to enter the Imperial Cathedral of St. Peter and St. Paul in Worms, but, today, it remains the only Catholic cathedral to have a stained glass window honoring the German reformer.
Our guide said when talking about the window that they left the Bible under his arm a bold red because, at the time of Luther, "faith was on fire for God."
On August 28th, on the steps of the Lincoln Memorial, Glenn Beck avoided political attacks and partisan rhetoric. Instead, he called on Americans to get on their knees and get right with God. For it was only then that America would again find its way. Like Luther centuries before him, he called for an awakening to the power of faith in God. Glenn Beck and the thousands attending lit a spark to put faith on fire in this great country.
No matter how you feel about Glenn Beck, Beck used his address at the event to emphasize the spiritual nature of his challenge to America and the role that ministers and churches must play in reviving faith. Glenn put his trust in God and challenged those in attendance to listen for his will in their life, "My message to you tonight is stand where He wants you to stand and trust in the Lord. If He tells you to do it, do it. If you can't figure it out, He will. Just do it."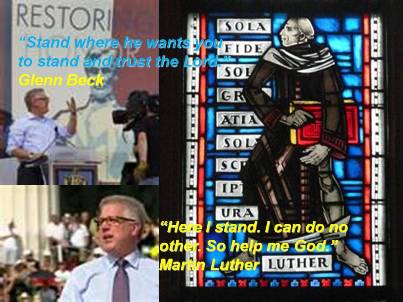 Luther put the Bible in the hands of the average believer to let them experience a personal relationship with God. When, to Luther's dismay, they turned their passion for freedom into attacks on others, Luther implored them to stop. Glenn Beck did the same. Instead of condoning hatred, he called for a change in heart. Since then, there have been numerous critical and supportive comments and commentary. I wish only to add that I respect the risk he took to speak and live his faith. History is the best judge of true impact. But both men in their own time speak to the power of purpose in creating optimism for the mission they espoused.
What are you doing to let the power of purpose and faith work in your life?