The media seems obsessed with talking about when THE economy will improve. As a result, too many people are watching instead of actively making the best of their own opportunities. They forget that free enterprise all but ensures expansion and contraction of the economy. As with the economy, the ebb and flow of the positive and negative in our lives can't be avoided. The great game of business will continue to produce a new set of winners and losers. The market will go up, and it will go down. Your life will have tragic moments and endearing, precious ones as well. Success is learning how to handle and make the best of both.
As I noted in The Optimism Advantage, Laker Coach Phil Jackson, the most winning coach in NBA finals history, has challenged players and leaders alike to take the middle path: "I got to watch him (Red Holzman, former coach of the New York Knicks) very closely. He talked philosophy with me, and he talked about the importance of staying not too high, not too low and not letting victories or defeats send you tumbling one way or the other. He believed in what was called the middle path." Never get too engrossed in setbacks, nor get too excited about the latest victory. After all, whether as a company or as an individual, you don't just want one good year. Any team wants a sustainable dynasty that finds a way to get beyond any setbacks to win year after year. Coach Jackson never over-coaches or micro-manages his players. He lets them play through the tough runs to gain confidence in their own abilities to bounce back. In short, whether leading others or managing yourself, be a "perspective leveler." Be humble about success and don't let overconfidence in the good times set the stage for complacency. Be confident in the face of setbacks. You've bounced back in the past, and you'll do it again.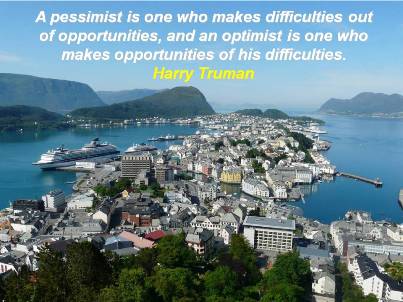 Harry Truman put it well: "A pessimist is one who makes difficulties of his opportunities and an optimist is one who makes opportunities of his difficulties." Even if you've been on the receiving end of terrible losses, abuse, crimes or cancer — don't label yourself as a victim. You are a survivor. You control the resilience, resourcefulness, and persistence you demonstrate in the face of any adversity. You also control your initiative and innovation in turning your happy accidents and unexpected opportunities into satisfying achievements. Adversity need not define you; instead, it can refine you. If you are still alive, you are not a victim. You are a survivor of all that has happened. Choose earned optimism over any form of victim thinking. Keep your focus on finding and capitalizing on the opportunities that are out there even in tough economies.