When I wrote The Optimism Advantage, I observed how modern-day-living has a way of reinforcing how little you control, making it far too easy to become a victim. Victims feel that they can't do anything to make a difference in what happens to them. Since they have no confidence in their own ability to cope with adversity and earn their own success, they avoid "useless" constructive actions, preferring instead to wait for fate to deal its hand. Both their headaches and their happiness come from what happens to them, instead of as a result of their own actions. Victims look for ways to blame those who contribute to their pain.
Optimists are the opposite of victims. With positive attitudes built on a personal track record of overcoming adversity, they believe in their own ability to achieve their goals and overcome whatever obstacles hinder them. When dealt a poor hand, they look for ways to play it well. They take pride in their achievements and look forward to life's challenges. The choice is yours.
Unfortunately, claiming your own optimism advantage takes more than the mere decision to do so. It requires a long history of changing how you think and act. This isn't a movie that's all wrapped up in a fancy bow in two hours. This is a soap opera, and you're the only star that counts. Your challenge is to make your life's soap opera as positive as possible.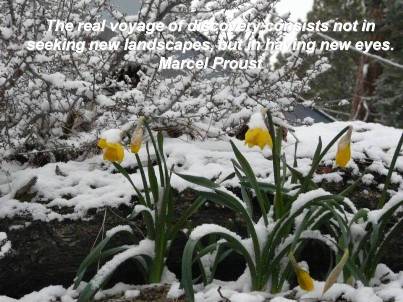 Marcel Proust once said, "The real voyage of discovery consists not in seeking new landscapes, but in having new eyes." So bring some new eyes to your life today and have some fun writing your own personal soap opera one day at a time. You'll want to fill your cast with people who will encourage and support you, and steer clear of those who belittle and doubt you. As with any soap opera, there'll be challenges, setbacks, victories, defeats, laughter, tears, joy, grief, record profits and sizable losses. Your job is to keep making progress in claiming the life you want to live, one day at a time, one choice at a time.
Hopefully, the insights you read at this blog and in The Optimism Advantage will help you write your positive script and find your supportive cast of characters.
Some clichés are so wise that they're worth repeating—"Today is the first day of the rest of your life!" Life is way too precious to waste boring yourself in an existence that isn't satisfying; and there's no time like the present to take responsibility for changing your situation. Waiting won't make it any easier, and it won't make success any more likely. Stop being your own worst enemy and start becoming your own best advocate. Why not start today! You're the author, and you've got a script to write. Make it a good one!