One of my favorite quotes from The Optimism Advantage was one by Jim Loehr. He provides a valuable perspective, "Life is about storms. . . . Stress, in and of itself, is not the problem. Stress can be a good thing. If you think about the things that created your character, created your ability to fight, and made a difference, in every case, it would be the storms. It's the things that pushed you the most that helped you the most."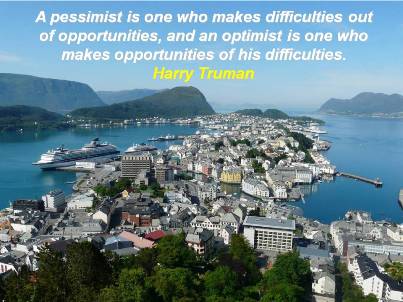 Protective cocoons may work for caterpillars, but they don't work for people. Shielding yourself from all of life's natural pains and setbacks doesn't allow you to gain the confidence that you need to cope with the even bigger challenges they will face later in life. Embrace challenges as the gifts they are. In the great game of business, there is no eighth-place trophy for a sales-person who loses a critical account to a competitor. If the quality of your product or service is substandard, you don't get a passing grade. You lose the business. So if you think optimism means adopting a Pollyanna mindset where everything turns out right – then you've got the wrong idea. That's simply self-help hype!
True optimists have earned their positive attitude from a proven track record of overcoming real obstacles. They did it the old-fashioned way; they earned confidence one obstacle, one challenge, and one victory at a time! If you are to become a true optimist, start by being a realist. Accept that life is difficult and then get busy learning as much as you can about the challenges you face. Why? Because you've overcome problems in the past, you have every reason to believe that you've got what it takes to overcome whatever problems life deals you.
Some of your most satisfying days were demanding. Succeeding anyway is often challenging and meaningful. The absence of stress is death. Choose a vital, active, even… "stressful" life! What can you do today to make your life "stressful" for the right reasons?