We all have friends, but sometimes you get to brag about friends who truly make a difference and, in doing so, end up bringing meaning, joy and optimism to their own life.
Bill Bradley has a ready smile, a servant's heart and a willingness to put his calendar where his sense of purpose is. In 2002, Bill officially declared himself burned out and retired to a simple life style in Eugene, Oregon. That year he began going to Zihuatanejo, Mexico on vacations. In 2007, he got involved with teachers who work for practically nothing at one of the poorest schools in Zihuatanejo. Bill fell in love with the kids, and they fell in love with him.
For years, he made a difference in the business world. He was a supporter, friend and colleague who made a difference for me and my career. But for the last few years, Bill has brought scholarships, encouragements, clothes, funds, emotional support, his network's involvement and hours of hugs and help to rural schools in one of the poorest parts of Mexico.
St. Francis of Assisi once said, "Start by doing what is necessary, then what is possible, and suddenly you are doing what is impossible." Bill has been doing just that.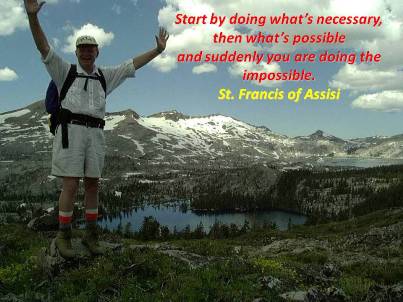 Follow his journey and look at the joy on the faces of those impacted by visiting his blog at http://zihuabill.wordpress.com/. Just as Viktor Frankl talked about the power of a servant's heart in bringing meaning to life. Frankl found that those who cared enough to share their limited food with others who needed it more were more likely to survive the horrors of the German camps.
Bill found that he wasn't burned out. He just needed to find the right flame to rekindle his passion for service. He's enlivened his life by caring enough to serve. Yes, he has made a difference, but he's also brought joy and meaning to his life. We applaud his efforts and his model.
Now, what role does a mission to serve play in your life? What has serving meant to your attitude? Where do you need to make a difference?