Whether it was Precious, the story of a young woman trying to find her way out of abuse or The Blind Side chronicling a family's support of a young man's dream and climb out of poverty, this year's Academy Awards actually honored movies that revealed men and women overcoming adversity on the way to meaning.
Even Jeff Bridges, the best actor pick, played a country singer in Crazy Heart who had to overcome his alcohol addiction and self-doubts to create music again and reclaim his life. Then we capped off the evening with the best director and best movie Oscars going to The Hurt Locker. It was a movie, but it was a movie that honored the men and women in the military who serve us. That is rare in Hollywood. The tributes and applause honoring our military were moving. I can only imagine how it would have felt to see this for our soldiers watching overseas.
But there is more to this post than just honoring movies. This wasn't a pity party in support of victim thinking. Watch and learn an important lesson from the movie honored. No one can give you optimism and confidence. You earn both from taking on and overcoming obstacles one problem, one day at a time. So don't avoid problems; take them on as they come. Seek out the challenges on the way to your dream. Use early victories to fuel your confidence as you prepare to handle the next challenge.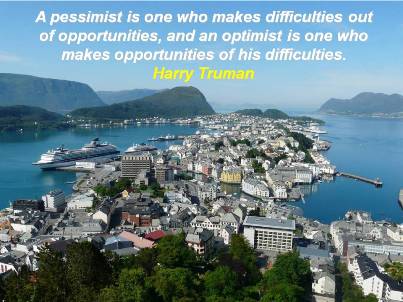 Who knows, maybe some day you will turn your "difficulties into opportunities" and be the subject of a movie. But even if that never happens, you may very well be an inspiration to others. Choose optimism. Choose resilience. Enjoy the journey.