Maybe there's a reason that so many different faiths encourage a spirit of gratefulness. Giving thanks to God is, for example, a very much a part of the Jewish faith. The Mizmor L'todah, a psalm of thanksgiving (Psalm 100), was originally sung as believers brought their thanksgiving offering to the Temple. Since then, it's been incorporated into the introductory praises leading up to the main part of morning prayers. Why do they start the day this way? Because every day — without even realizing it — each of us benefits from countless miracles. The believer's mission in this world is to see the blessings, divine acts of kindness, and miracles that surround them and to respond by serving with gladness. Jewish believers therefore pray not just to give thanks to the Holy One, but as a reminder of the necessity to serve with joy. That means daily miracles from God above and daily service from believers below.
That same spirit of thanksgiving is evident in the Christian faith. The Apostle Paul, writing to Christians in Philippi, wrote: "Rejoice in the Lord always. I will say it again: Rejoice! Let your gentleness be evident to all. The Lord is near. Do not be anxious about anything, but in everything, by prayer and petition, with thanksgiving, present your requests to God. And the peace of God, which transcends understanding, will guard your hearts and your minds in Christ Jesus." I've developed a habit that centers me on a path of gratitude. Before I start my 30 minutes on the cross trainer equipment, I consciously repeat the sentiments expressed in Psalm 118: 24—"This is the day the Lord has made. Let us rejoice and be glad in it." While I exercise, I focus on the many things that I am grateful for. You may want to try the same thing! Faith may not be the answer for everyone, but hope and optimism seldom exist in a vacuum. Many find these by being part of and in serving within a community.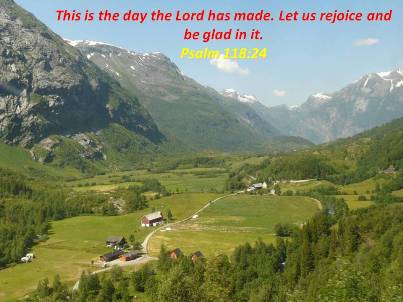 Successful actor Michael J. Fox tells the powerful story about his journey living with Parkinson 's disease in a book that he called Always Looking Up. Fox has learned to accept what fate has brought him, but that has not eliminated his choices or his commitment to remain optimistic. During an interview on an ABC's special about his illness, Michael shared what his particular situation had taught him about life: "The answer had very little to do with protection and everything to do with perspective. The only unavailable choice was whether or not to have Parkinson's. Everything else was up to me. I could concentrate on the loss or just get on with life and maybe see if the holes started filling in for themselves." Even without faith, gratitude impacts the one who gives thanks and those who are thanked. Michael J. Fox is bringing his optimism and hope to communities and readers throughout the world. Michael added, "Since I am not sure of the address to send my gratitude, I put it out there with everything I do." He may not address his gratitude to God, but he certainly is still making a difference.
What are you thankful for today?
This post comes from my newest book, The Optimism Advantage: 50 Simple Truths to Transform Your Attitudes and Actions into Results. If you like this post, you'll love this book available March 22nd!